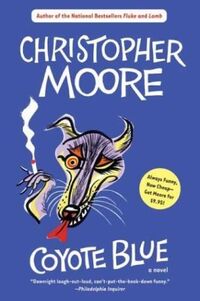 Coyote Blue (1994) is the second novel by Christopher Moore.
Cover Copy
Edit
From Christopher Moore, author of Fluke, comes a quirky, irreverent novel of love, myth, metaphysics, outlaw biking, angst, and outrageous redemption.
As a boy growing up in Montana, he was Samson Hunts Alone -- until a deadly misunderstanding with the law forced him to flee the Crow reservation at age fifteen. Today he is Samuel Hunter, a successful Santa Barbara insurance salesman with a Mercedes, a condo, and a hollow, invented life. Then one day, shortly after his thirty-fifth birthday, destiny offers him the dangerous gift of love -- in the exquisite form of Calliope Kincaid -- and a curse in the unheralded appearance of an ancient Indian god by the name of Coyote. Coyote, the trickster, has arrived to transform tranquility into chaos, to reawaken the mystical storyteller within Sam . . . and to seriously screw up his existence in the process.
Main Characters
Edit
Old Man Coyote
Calliope Kincaid
Pokey Medicine Wing
Other Characters
Edit
Josh Spagnola
Aaron Aaron
Gabriella Snow
Billy Two Irons
Enos Windtree
Location(s)
Edit
Crow Country, MT
Las Vegas, NV
Plot Synopsis
Edit
WARNING: SPOILERS FOLLOW
The plot concerns a salesman in Santa Barbara, California named Sam Hunter (a Crow Indian born Samson Hunts Alone) who, as a teenager, fled his home when he was involved in the death of a law officer. The novel begins when the adult Sam has his life turned upside down by Coyote, the ancient Native American trickster-god.
External Links
Edit
Community content is available under
CC-BY-SA
unless otherwise noted.