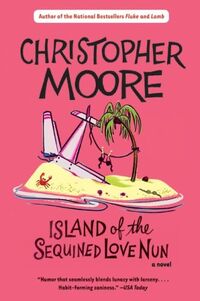 Island of the Sequined Love Nun (1997) is the fourth novel by Christopher Moore.
Cover Copy
Edit
Take a wonderfully crazed excursion into the demented heart of a tropical paradise -- a world of cargo cults, cannibals, mad scientists, ninjas, and talking fruit bats. Our bumbling hero is Tucker Case, a hopeless geek trapped in a cool guys body, who makes a living as a pilot for the Mary Jean Cosmetics Corporation. But when he demolishes his bosss pink plane during a drunken airborne liaison, Tuck must run for his life from Mary Jeans goons. Now theres only one employment opportunity left for him: piloting shady secret missions for an unscrupulous medical missionary and a sexy blond high priestess on the remotest of Micronesian hells. Here is a brazen, ingenious, irreverent, and wickedly funny novel from a modern master of the outrageous.
Main Characters
Edit
Location(s)
Edit
Plot Synopsis
Edit
WARNING: SPOILERS FOLLOW
The main character, Tuck (Tucker Case), a pilot for a cosmetics company, crashes the company plane while making love. Although this event causes Tuck to be blacklisted from flying in the States, he receives and accepts a lucrative offer from a doctor-missionary on a remote Micronesian island to transport cargo to and from Japan. Along with a male Filipino transvestite navigator and a talking fruit bat, Tuck moves to the island, where he eventually uncovers a horrible secret harbored by the doctor and his wife, who have taken advantage of fact that the natives of the island have fallen under the influence of a cargo cult that developed as a result of establishment by Allies of an air runway there during World War II. Tuck's shock at the gruesome immorality of the situation leads to a adventurous and suspenseful climax.
External Links
Edit
Island of the Sequined Love Nun@ChrisMoore.com
Community content is available under
CC-BY-SA
unless otherwise noted.